LNG industry poised to adopt floating power plants
The on-going development and enhancements for Floating LNG Power Plant technologies by the LNG Industry is a testimony of the industry's commitment to improve the world's energy resource. FLNG Power Plants are able to reach remote communities and provide direct supply of electricity more efficiently and at lower cost as compared to land-based power plants. Furthermore, these floaters provide a more flexible power solution when these land-based power plants and other renewable sources are unable to meet the demand.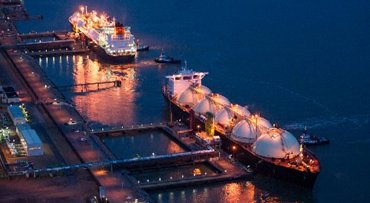 Northwest Europe LNG terminals opt for flexibility
Northern Europe's LNG requirements are increasing due to the growing demands of customers seeking coastal distribution and LNG-fueling services as well as the increasing number of small-scale users, including residential and industrial customers not connected to national gas grids and operators of LNG-powered ships and heavy-duty vehicles. Because of this, the region's LNG import terminals have moved beyond their original regasification duties and have escalated to offer a broad range of supply chain services. The majority of these terminals are now equipped to reload cargoes for international customers and to load LNG road tankers and ISO tank containers at dedicated bays for onward distribution.
Natural Gas and LNG: Future of Electricity
Natural gas has become the preferred fuel for power generation for various economic, operational and environmental reasons, and the future of LNG will remain bright. Industry players continue to ride on the growing energy trend through developing new innovations and finding better ways to store and distribute LNG to different regions. Because of this, the fleet of large-scale LNG carriers will likely grow, as well as small-scale units, so as to meet the specialised needs of each market.